I previously posted a fantastic upper body strip-set workout called the Upper Body Smash Strip-Set Workout. I've got a new one for you today, but first I want to talk more about what strip sets are and how they can be a useful tool in your arsenal of workouts.
Building Muscle
If your goal is to build muscle then strip sets are a perfect workout for you! This type of workout is designed for increasing muscle size. This happens by deeply breaking down the muscle fibers. When you work your typical 6-12 repetition zone, you'll find that by the time you squeeze off your last rep, you're really struggling. However, in a strip-set, you're only done at that specific weight.  Next you drop down a weight and continue to bust out some more repetitions. When you reach failure at this reduced weight, then guess what? You drop down a weight again, and continue with more repetitions. Needless to say, this third set, or more if you keep going, will totally get at those deep fibers and wipe you out!
Efficient Strip Sets
For these to work effectively, you need to keep the rests between strips to a minimum amount of time.
Have your equipment ready so that you can quickly move on to the next lower weight. I use the Bowflex SelectTech 552 Adjustable Dumbbells, and they are really convenient for dropping down to the next lower weight quickly.
Choose weights that keep you in the 6-12 repetition zone, and make sure those weights max you out on your final repetition for that weight. This is the best zone for developing both strength and size. Squeeze them out until you are physically unable to squeeze out any more, and then this is the point where you strip down to the next lower weight.
This method works phenomenally with dumbbells! If you've heard that you cannot build a nice chest unless you have a barbell and a lot of weight, let me tell you that just isn't true.
Do not use this method for every workout. You will overtrain and burn out.
I've been doing a lot of kettlebell work lately, strengthening my posterior chain and my core. So today, I decided to hit the "main events" (my chest and biceps) really hard!
Chest and Biceps Strip Set
Strip-Set: 3
Dumbbell Bench Press
Inclined Seated Dumbbell Press
Hammer Curls
Lying Down Dumbbell Flys
Seated Bicep Curls
It doesn't look like much, but if you think about it, each move is actually 3 moves. You could count this as an 18-move workout. I took up to 2 minutes rest after each strip set before going on to the next move.
Equipment Used:
Bowflex SelectTech 552 Dumbbells, My Review
Bowflex SelectTech 3.1 Series Bench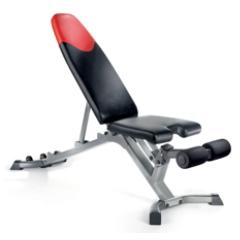 Harbinger 143 Men's Pro FlexClosure Wash & Dry Gloves
Body Fortress Whey Protein Powder – Vanilla (2 lb.)